Evoluent Mouse VM4RW Vertical Mouse 4 Right Wireless Buttons Retail (SKU: 124993)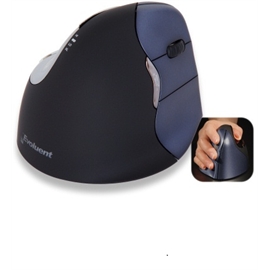 Windows
Includes driver for Windows XP, Vista and Win 7 in 32/64 bit for programming all 6 buttons. The driver is not required. The Vertical Mouse 4 still has basic functionality without it.
USB only not compatible with PS2 adapters. May be compatible with some USB KVM switches but it is not guaranteed.
Mac
Basic functionality in OS X or newer without a driver:
Linux
Basic functionality without a driver
Unix
Compatibility unknown
Item Dimension (L"xW"xH")
5.3 x 3.5 x 3.5

Weight
0.50 lb

Warranty Information
1 Year